Tokenized BTC dominates off-chain transactions
14,961 BTC are locked into tokenized Bitcoin protocols on the Ethereum Network.
By Victor Ugochukwu · Jul 15, 2020 . 6min read

Recent reports from Arcane Networks shows tokenized BTC leads other off-chain bitcoin transactions. This off-chain record beats others like Liquid and Lightning Networks amidst the ongoing DeFi hype.
Data from Nansen shows that 14,961 BTC are locked into tokenized Bitcoin protocols on the Ethereum Network. This is over 400% the size of BTC locked in other bitcoin off-chain solutions. While Liquid and the much expected Lightning Network from Lightning Labs continues to push, Tokenized BTC keeps surging.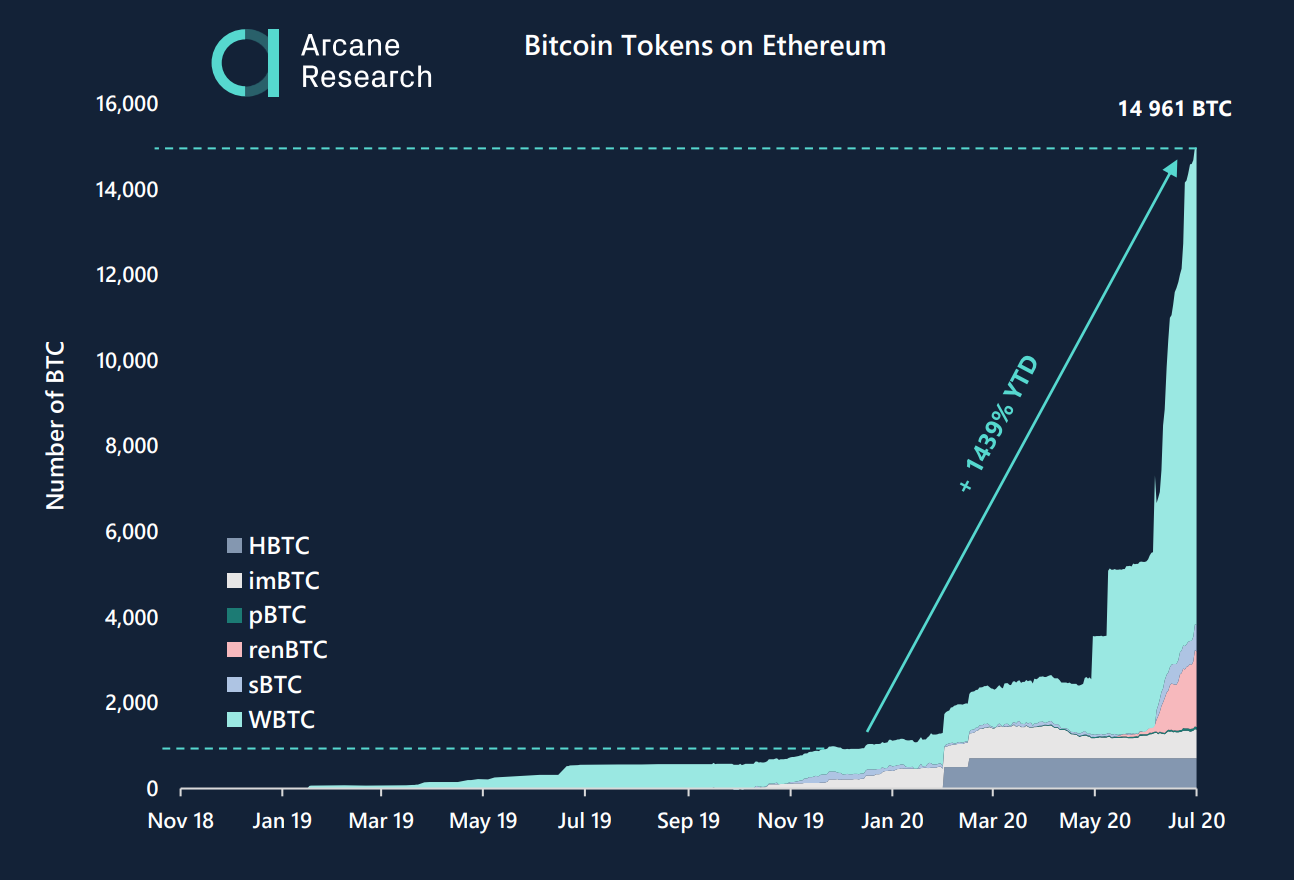 Tokenized BTC continues to see growth growing by 1439% year-to-date. WBTC leads the pack with 11,136 BTC locked into the protocol. With this impressive growth, bitcoin's off-chain transactions should grow even more especially with WBTC's recent implementation on Compound DeFi protocol. Compound Finance is Ethereum's largest and apparently most preferred with total value lock up hitting $1.5 billion.
To put this into more perspective, tokenized bitcoins otherwise called ERC-20 bitcoins accounts for 81.2% of the off-chain BTC supply. Even with off-chain solutions like Lightning Network's Lightning Labs receiving $10 million Series A recently, its transactions volume is still nothing compared with tokenized bitcoin's.
Tokenized BTC and the DeFi Boom
Tokenized bitcoin is an ERC-20 token that enables support compatibility with Ethereum's DeFi ecosystem functionality seeing an uptick in growth recently.

Some assets classified as tokenized bitcoin includes WBTC or wrapped bitcoin, HBTC, imBTC, pBTC, renBTC, sBTC, and more under creation.
This is clearly a consolation to Ethereum lovers who had their hopes dash this year of ETH 2.0 coming to reality. From year-to-date, active addresses increased by 118%. Longhash, a data analytics firm reports that 100,000+ ETH addresses were created every day since June 22. Glassnode another analytics firm reports that non-zero addresses reached an ATH of 43,232,292 on July 11 this year.
The DeFi boom may be part of the reasons why Ethereum is seeing these growths across boards.
But even with these growth and the DeFi boom, critics have not wasted time in calling out tokenized bitcoin like WBTC. They claim it has a central point of failure and therefore DeFi protocols like Compound should not implement its usage.
Whether these growth seen in tokenized bitcoins will continue or peak at some point isn't for sure certain.
Subscribe to Cryptodose
Recieve Daily Dose of Crypto straight to your inbox